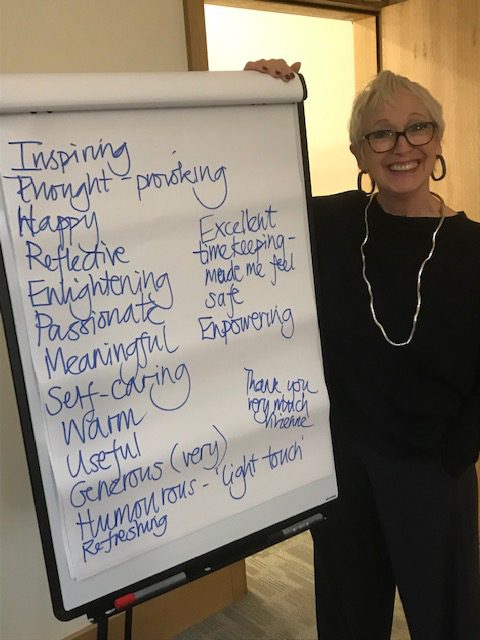 Excellent testimonies came from all participants and I have listed the 'one-liners' regarding the workshop and I by way of introduction and then detailed a couple more fully

Inspiring
Thought provoking
Happy
Reflective
Enlightening
Passionate
Meaningful
Self-Caring (as in good for self-care)
Warm
Useful
Generous (very)
Humorous – light touch
Excellent time keeping – made me feel safe
Refreshing
Empowering


Tim – Hi Vivienne, a huge thank for today's workshop. It was most enjoyable and allowed the opportunity to pause and reflect on personal/work situations backed up by sound theory and anecdotes. To reflect on self and others. I learnt some coping strategies to stop and think before acting/saying something – to avoid confrontation. Many thanks for a very interesting and thought-provoking workshop.

Cara – Hi Vivienne, I spoke to lots of people during the break times and it was clear everybody enjoyed themselves and learnt something useful. Really well done! I thought your workshop booklets with the headings and room to make notes were brilliant. I also like your simple and very visual slides. I thought the workshop plan was really good. You are very knowledgeable and shared lots of powerful messages in a clear and relatable way